How to Budget and Plan for a Wedding
Bentley Bates is the owner and lead coordinator at Honey B. Wedding Planning and Coordinating. She graciously agreed to write a guest post for all my wonderful couples that breaks down how to go about planning a wedding.
I've worked with Bentley at many events and weddings and I can attest that she's the kind of sweet, organized, and hella cool right-hand every bride needs on wedding day! Thank you Bentley for taking the time to walk through a typical bridal budget!
-Rachel
Hello Lovely Couple! 
Congratulations on your engagement! You've found the person you want to spend the rest of your life with and you're ready to plan your big day! Amid all the excitement, you may be thinking to yourself, what now? How do I even get started? Well, the first step in the planning process is to decide how you want to plan your big day. 
The purpose of a wedding is to celebrate the love of two people. However, with outside opinions, expectations, etiquette, and tradition all swirling around, it's easy for couples to get caught up in the theatrics of it all and forget what their day is truly about. This can be very stressful, but I am here to tell you, it doesn't have to be. This is why you call in an expert. 
A wedding planner is there for you every step of the way. From the initial meeting, to the day after the wedding, the planner is your friend, designer, organizer and champion through it all.
Don't know where to start? I got you. Don't know how to tell your future in-law that you had a different idea in mind? I got you. Want to enjoy the planning process and then just relax and enjoy the best day of your life because you know every detail has been taken care of? You get the idea. First and foremost, the client and planner relationship is built on trust.
When there is trust, we can work together to turn your dream wedding into a reality.
So, what does the planning process look like?
At honey b. wedding planning + day of coordination, the initial meeting is to create a budget analysis. Now, I know getting engaged is amazingly exciting and your mind is racing with fun ideas and you've spent hours re-pinning on Pinterest. I get it; I do it all the time! But the most important way for you to execute all your ideas without stretching your bank account is to set goals first.
The budget analysis includes categories of venue, attire, photography and videography, florals, decorations, catering, dessert, entertainment, and the bar. We go over your budget for each category and rate your top three items that you are willing to spend a little more on if possible. We'll also briefly talk about your desired style and feel for each category.
Here's an example of a $35-45K budget (the average cost for a Minnesota wedding): 

VENUE: $12,000
Modern-Industrial in the Twin Cities, wants a Saturday in the fall (August, September, or October)
#1 ATTIRE: $2,500
Long sleeve, lace, open back
#2 PHOTOGRAPHY: $4,500 – $5,500
Fine Art, no videographer, photographer needed for 8 to 10 hours
#3 FLORALS: $2,500
Greenery on tables, ceremony arch, simple bouquets
DECORATIONS: $1,000
Tall gold no-drip candles
CATERING: $12,000
Plated, two meat options
DESSERT: $1,000
Cake & cupcakes
BAR: no budget, open bar all night
As you can see in the example, the budget analysis is listed out with brief descriptions to give a feel for what the couple would like.  The numbers (1), (2), and (3) listed before each category, indicates their top choice that they are willing to splurge a little more money on if possible. This tells me that if I find a venue for $12,000, that falls into the modern industrial aesthetic that they want, I am going to provide this option in my list of possibilities. A budget analysis provides the framework so we can have more fun with all the dainty details of the planning process. 
The budget allows me, a wedding planner, to create a binder of recommendations for you based on the descriptions we discussed in the initial meeting. I call it your "honey b.'s look book," but you can think of it like a physical Pinterest board. This includes about five recommendations for each category with photos and rates listed. From photographers to caterers to bridal shops and more, it's your custom-made wedding binder filled with vendors we love here at honey b. We have made great connections with other vendors throughout the years and would only send you to those we know would provide quality services.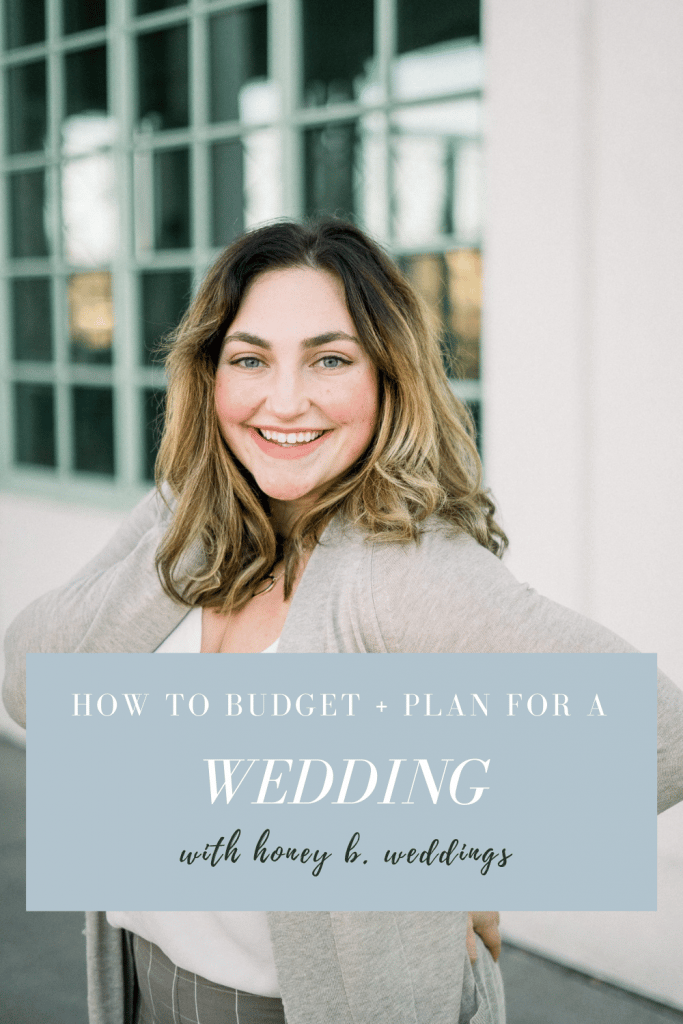 This resource also allows you to weed out any options you may not need. Why waste your time looking at a rustic barn venue when you wish to have a modern industrial atmosphere? The binder also includes a timeline of the planning process, receipts of bookings or purchases, and vendor contact information. It is important to keep all the details in one place to ensure nothing is missed. It's the best way to make sure all your vendors are on the same page.
At honey b. wedding planning + day of coordination, we also offer to come with the couples to tours, tastings, fittings, and more. This is where having a planner comes in handy because we know what to ask and what to look for.
Finally, after months of planning, the big day has finally arrived! The day starts off with the wedding planner checking floorplans, setting up decorations, providing timelines to vendors, and assisting in anything the clients may need. At honey b. I check in with the couple throughout the day and ensure all parties involved are on time with the schedule.
Once the guests arrive and it's time to say I DO! I assist with the order of the wedding party for ceremony and make sure everyone looks picture perfect. Throughout the night, the planner is cleaning, checking in and running the timeline of events while you sit back, dance, and enjoy your dream wedding! From set up to tear down, I got you.
Whether you're planning the wedding with an expert, or you are doing it yourself, going through the planning process doesn't have to be stressful.
By sticking to the budget, creating a binder of styles, receipts, and vendor information, and delegating tasks on the day of the wedding, your dream wedding can become a reality.
XO,
Bentley Bates
honey b.
Want more great tips? Reach out via my contact page or Follow me on Instagram for more help!