Katie and Nick's wedding day was a truly beautiful and memorable occasion at the Renaissance Depot Hotel Wedding & Event Venue in downtown Minneapolis!
The couple exchanged their vows in a stunning cathedral ceremony, surrounded by lush greenery and blooming flowers. Our Lady of Victory, the chapel at St. Catherine's University, is Katie's alma mater so it carried special significance for her and her family! Katie looked absolutely radiant in her flowing white gown, while Nick looked dapper in his sharp suit.
Following the ceremony, guests enjoyed a delightful cocktail hour on the outer deck of the Renaissance Depot Hotel in downtown Minneapolis before heading to the reception. The reception hall was beautifully decorated with twinkling lights, lush and elegant floral arrangements, and hanging floral installations from the vaulted ceilings.
And now for a trend prediction – I'm starting to see more and more couples do this in Minnesota, and Katie and Nick are one of the first wedding couples I've seen do this in the Midwest – the first dance happened right after their introduction into the reception!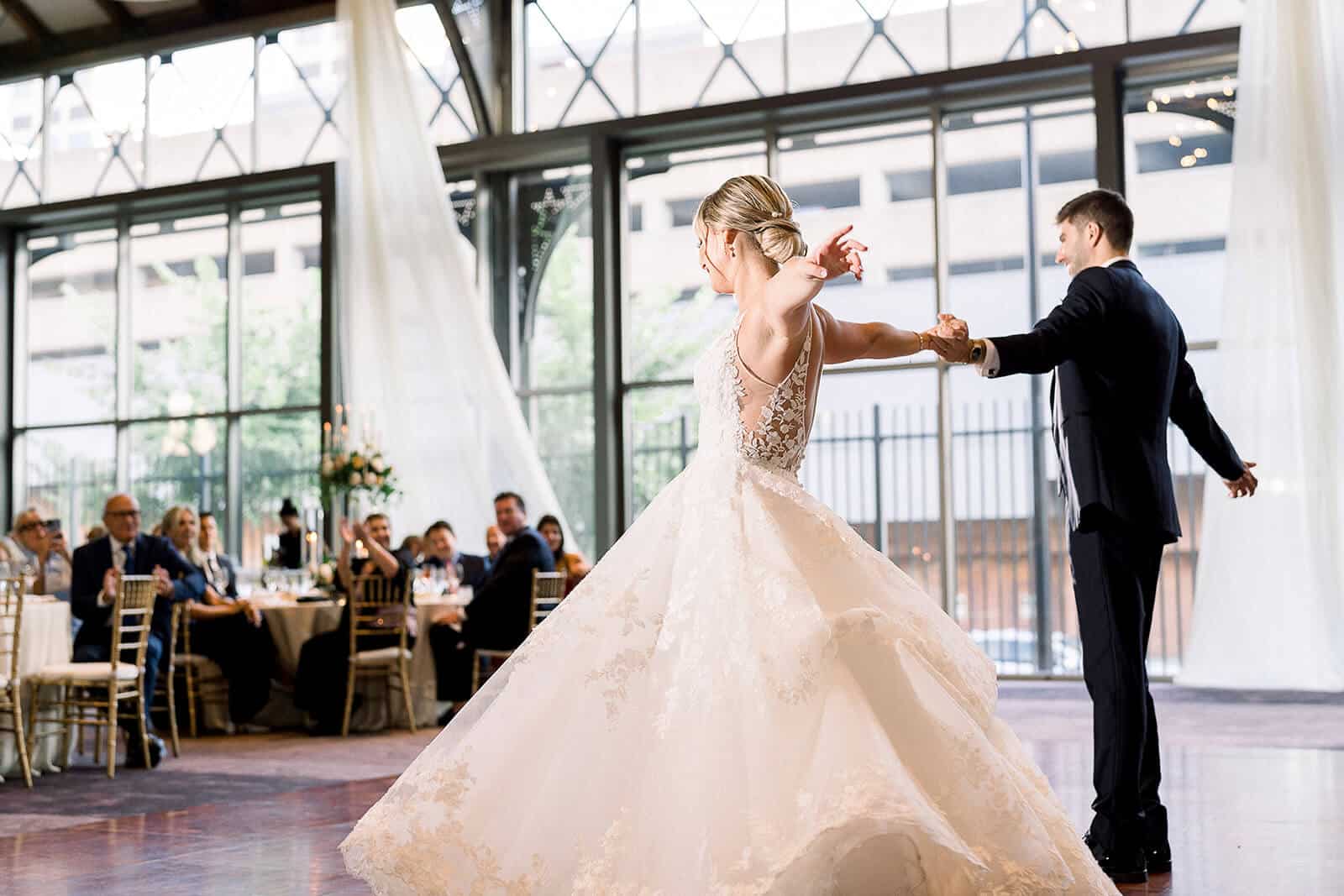 This is a common trend in Florida and eastern states but is relatively new to the Midwest. I think it's so elegant and makes the night flow so seamlessly – and makes sure everyone is present and excited to watch your first dance! Highly recommend chatting with your photographer and planner about incorporating this into your reception.
After the newlyweds shared their first dance as husband and wife, guests were treated to a delicious dinner and plenty of dancing throughout the evening. It was clear that Katie and Nick were surrounded by love and support from their family and friends, and their wedding day was a beautiful reflection of their love and commitment to each other.
THE FABULOUS RENAISSANCE DEPOT HOTEL WEDDING VENDOR TEAM
Planning and Design: Lasting Impressions
Photography: Rachel Elle Photography
Videography: Blush Film Co
Hair and Makeup: Primped MN
Catering: Puff n' Stuff
Desserts: Highland Cafe and Bakery
Stationary: Paper Rock Scissors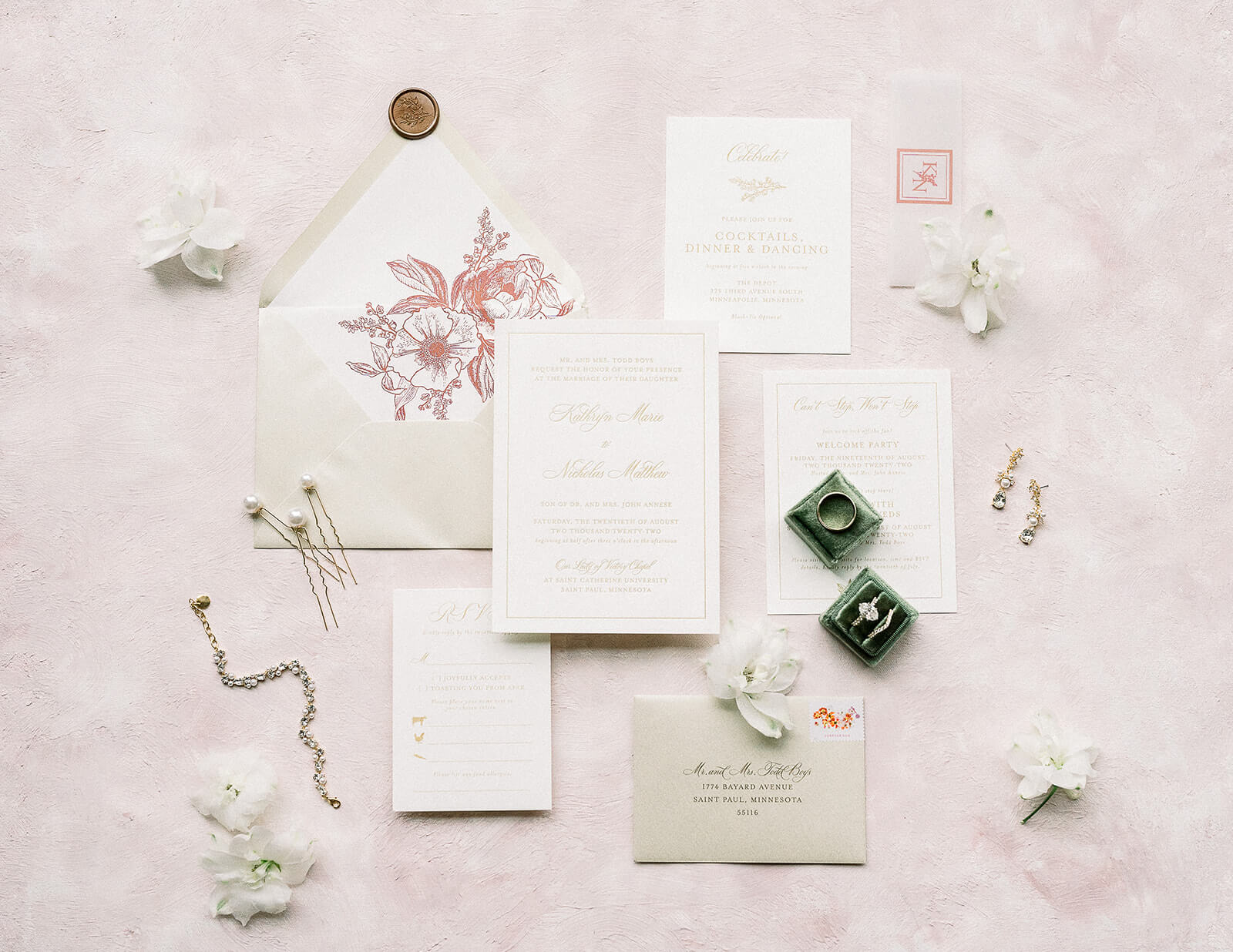 A CLASSIC MINNEAPOLIS CHOICE – ALL ABOUT THE RENAISSANCE DEPOT HOTEL WEDDING VENUE
The Renaissance Depot Minneapolis Hotel Wedding Venue is a stunningly beautiful hotel located in the heart of downtown Minneapolis, Minnesota. The hotel is housed in a historic railroad station that has been beautifully restored and converted into a luxury hotel.
The Renaissance Depot Minneapolis Hotel is a popular destination for both business and leisure travelers. The hotel offers a wide range of amenities and services that cater to the needs of both types of travelers.
One of the most notable features of the Renaissance Depot Minneapolis Hotel is its stunning architecture. The hotel was originally built in 1899 as a railroad station, and it has been beautifully restored to its original grandeur. The hotel's lobby is a stunning example of the Beaux-Arts architectural style, with its soaring ceilings, marble floors, and intricate decorative details.
The hotel's guest rooms are equally impressive. Each room is elegantly appointed with luxurious furnishings and modern amenities. Guests can choose from a variety of room types, including standard rooms, suites, and executive rooms. All rooms feature high-speed internet access, flat-screen televisions, and premium bedding.
The Renaissance Depot Minneapolis Hotel wedding venue is also home to several dining options. The hotel's signature restaurant, Milwaukee Road, serves up delicious American cuisine in a stylish and sophisticated setting. Guests can also enjoy a drink at the hotel's bar, The Depot Tavern, which features an extensive selection of craft beers and cocktails.
In addition to its dining options, the Renaissance Depot Minneapolis Hotel and Wedding Venue also offers a variety of meeting and event spaces. The hotel's ballroom is a popular venue for weddings and other special events, while its smaller meeting rooms are ideal for business meetings and conferences.
Overall, the Renaissance Depot is a truly exceptional hotel that offers an unforgettable experience for its guests. Its stunning architecture, luxurious accommodations, and excellent amenities and services make it one of the top hotels in Minneapolis and a must-visit destination for anyone traveling to the area.
Ready to book your photographer for your Renaissance Depot Hotel Wedding? Head to our contact page to inquire about your date!