25 Best Engagement Session Locations Minneapolis
When planning an engagement session with a couple, the two questions I hear most often are "What should we wear?" and "Where should our session take place?" 
I get it! It can be overwhelming to plan for an engagement session when you've never done one. In this blog post, I want to go over some of my favorite locations for engagement photos in the Minneapolis area.
25 Best Engagement Session Locations Minneapolis
On the hunt for a more natural, outdoorsy location for your Minneapolis engagement session? Look no further! These spots are some of the best in the Minneapolis and Twin Cities area: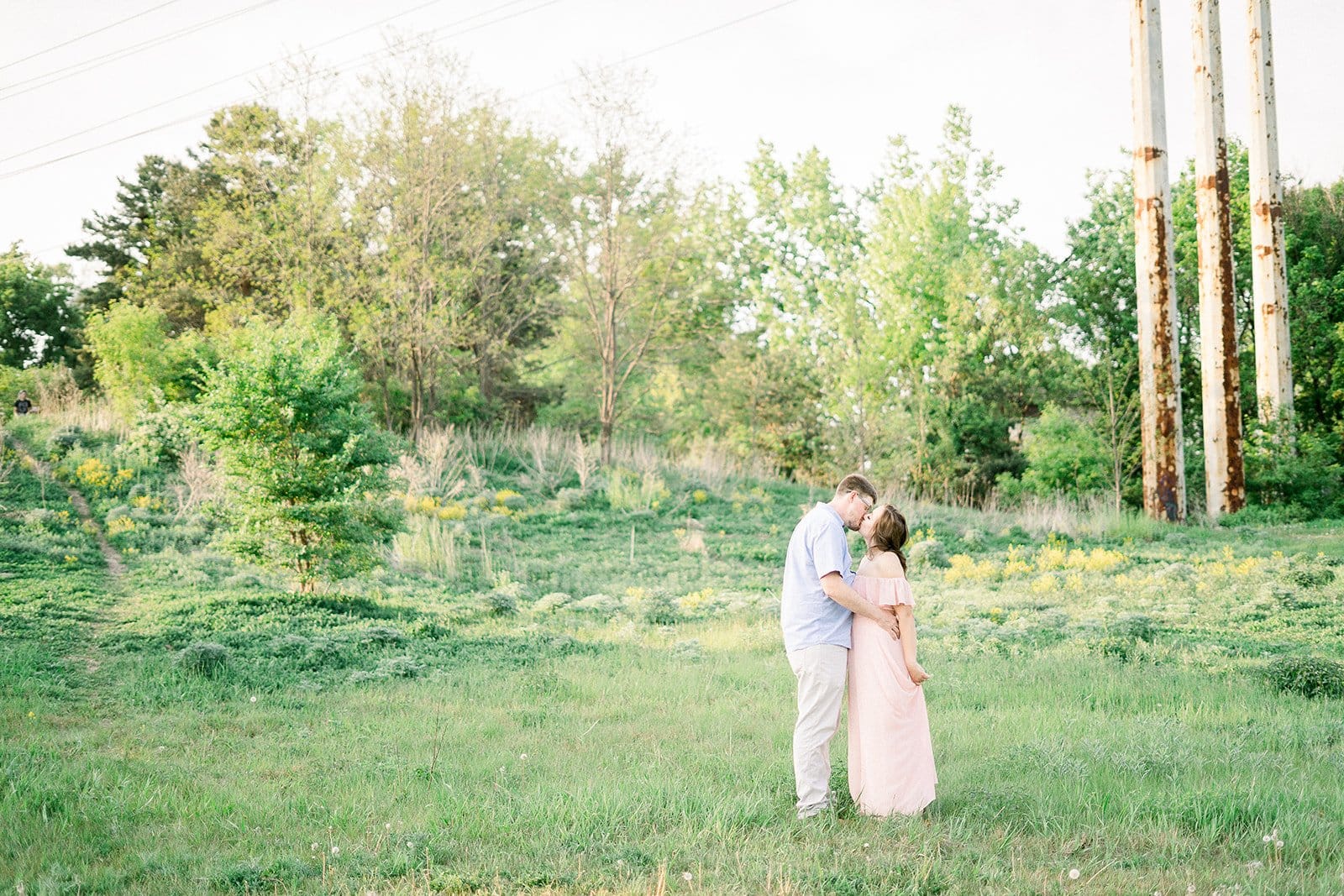 Boom Island Park
724 Sibley St NE, Minneapolis, MN 55413
Conveniently located near downtown, this park is spacious and has plenty of gorgeous long-grass fields, trees, and access to the river if you're looking for a location that doesn't feel like it's in the city! Bonus: The old train tracks that run through this park make for beautiful and unique photography backgrounds and there is access to the Minneapolis skyline if you'd like a few photos that highlight the city!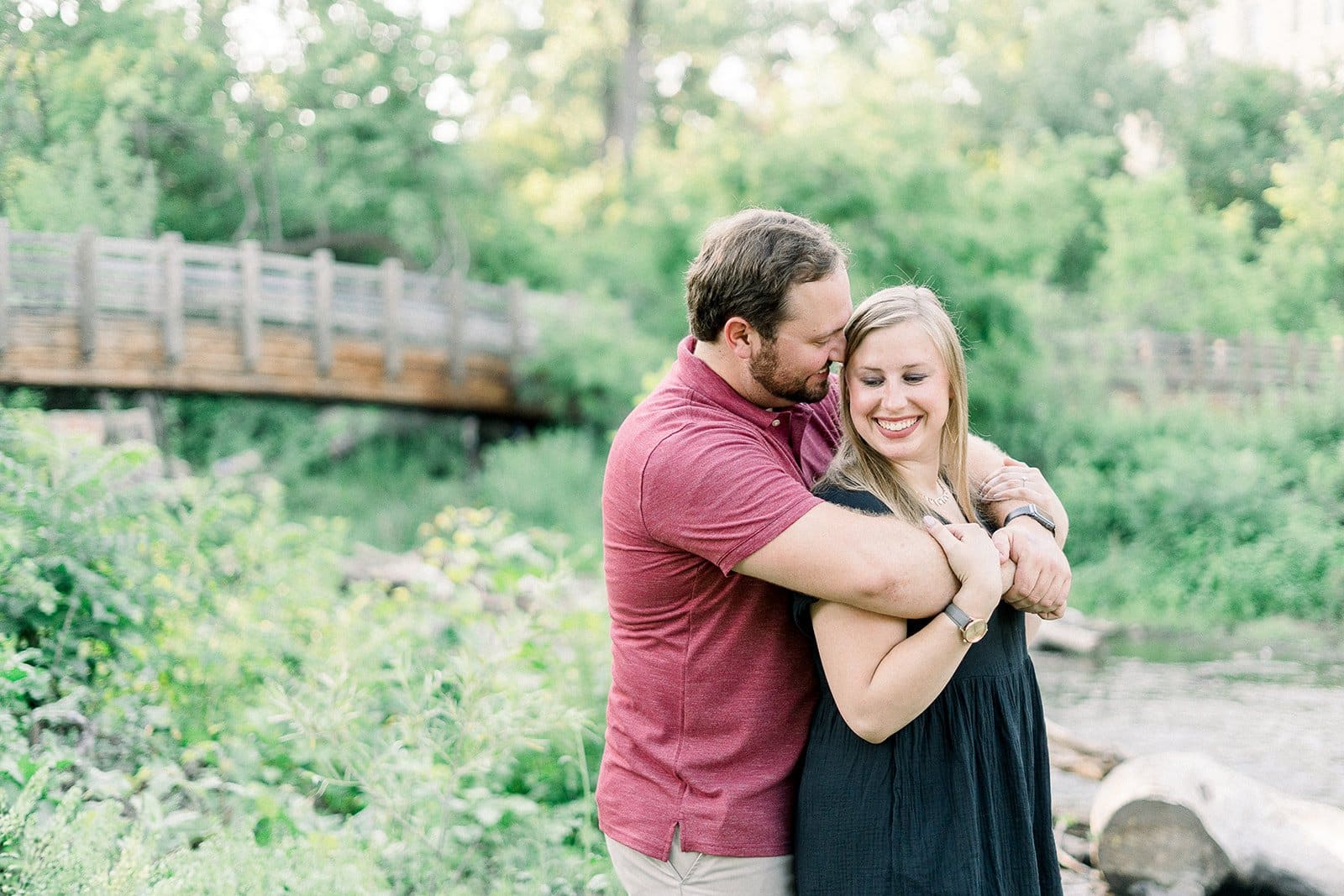 Saint Anthony Main
115 Main Street; Minneapolis, MN 55414
I know this might not sound like a good spot if you're hoping to avoid city views, but there is a section of paths along the river that are only accessible from the Saint Anthony Main area. You'd never know that you're in the heart of the city! This location has lots of trees, gorgeous long grasses, pebbled beaches, and as a bonus, access to the water and beautiful views of the Stone Arch Bridge.
Minnehaha Falls
4801 S Minnehaha Drive Minneapolis, MN 55417
Right between St. Paul and Minneapolis lies the Minnehaha Falls, a gorgeous spot for anyone hoping for a more natural engagement session location. While this area can get quite busy during the summer months, it's always possible to get the waterfall shot that everyone loves. It's also especially gorgeous during the Fall months as the leaves change color. This spot is perfect for anyone hoping for a mix of woodsy photos, the falls, and some beautiful garden and overlook shots.

Nichollet Island Park
40 Power St. Minneapolis, MN 55401
Not too far from Saint Anthony Main is Nicollet Island. Many of my couples split their session time between this quaint island and the Saint Anthony Main cobblestones for a unique mix of engagement photo backdrops and styles. Nicollet Island isn't large, but the gorgeous oak trees and paths along the river make for beautiful photo ops! Given that many of the paths are paved, it's also a perfect spot for an engagement session if the ground is muddy or it's recently rained.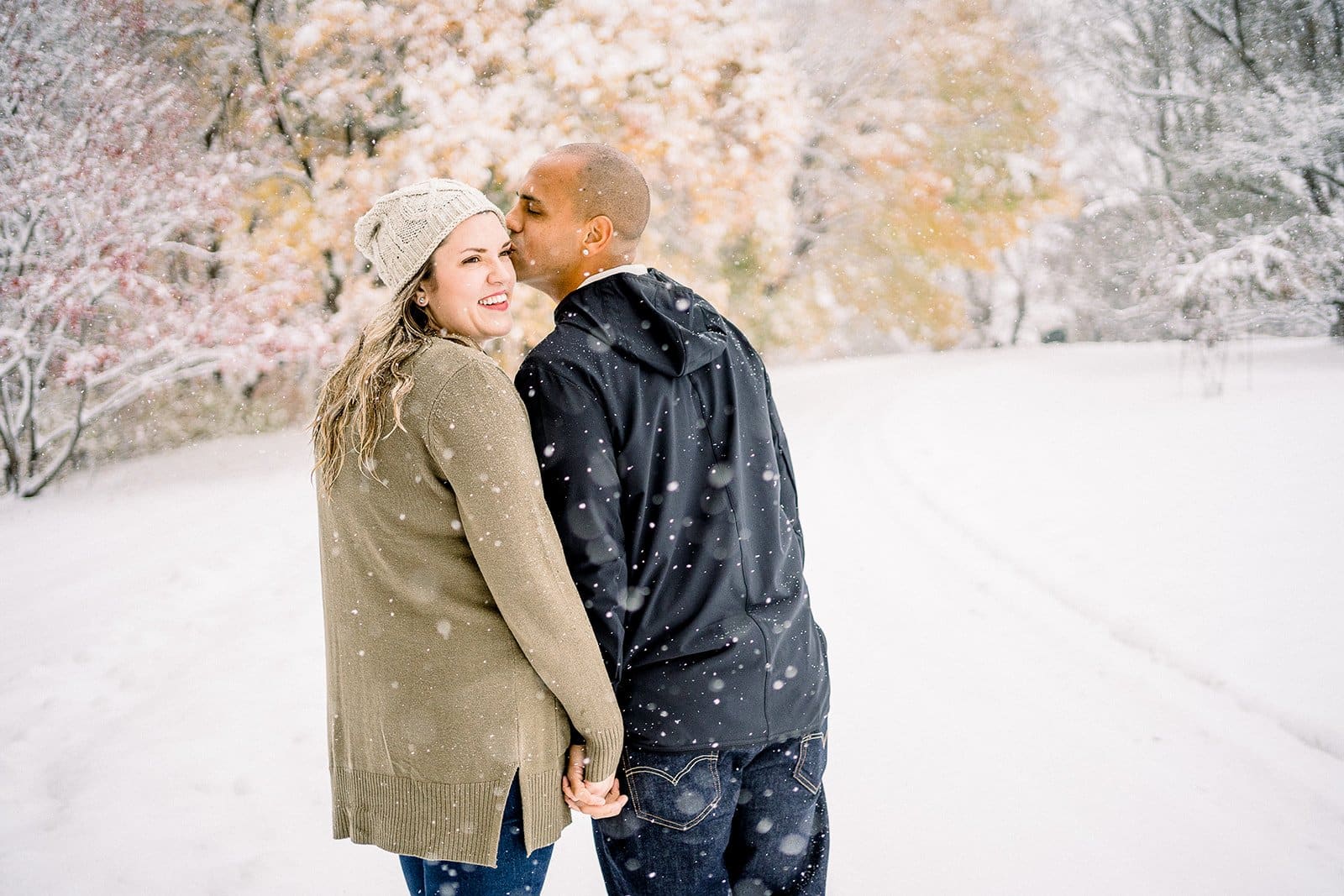 Minnesota Landscape Arboretum
3675 Arboretum Dr, Chaska, MN 55318
About a 40-minute drive from the cities, the Minnesota Landscape Arboretum is the perfect spot if you're hoping for a mixture of natural outdoor beauty and beautifully manicured gardens. Daily permits for engagement photography are $75 unless you have a student or U of M pass.
Iconic Minneapolis Engagement Photo Locations 
If you're looking for a spot that's uniquely Minneapolis, this is the section for you! Minneapolis is known for its artwork and culture, so head to a location that reflects that!
Gold Medal Park
Second Street and 11th Avenue South, Minneapolis, MN 55415
Many city-goers know and love the Gold Medal sign above this park. While the park itself is small, you're only a short walk from the river and engagement sessions here get a mixture of city, natural, and skyline views, as well as the iconic Gold Medal sign.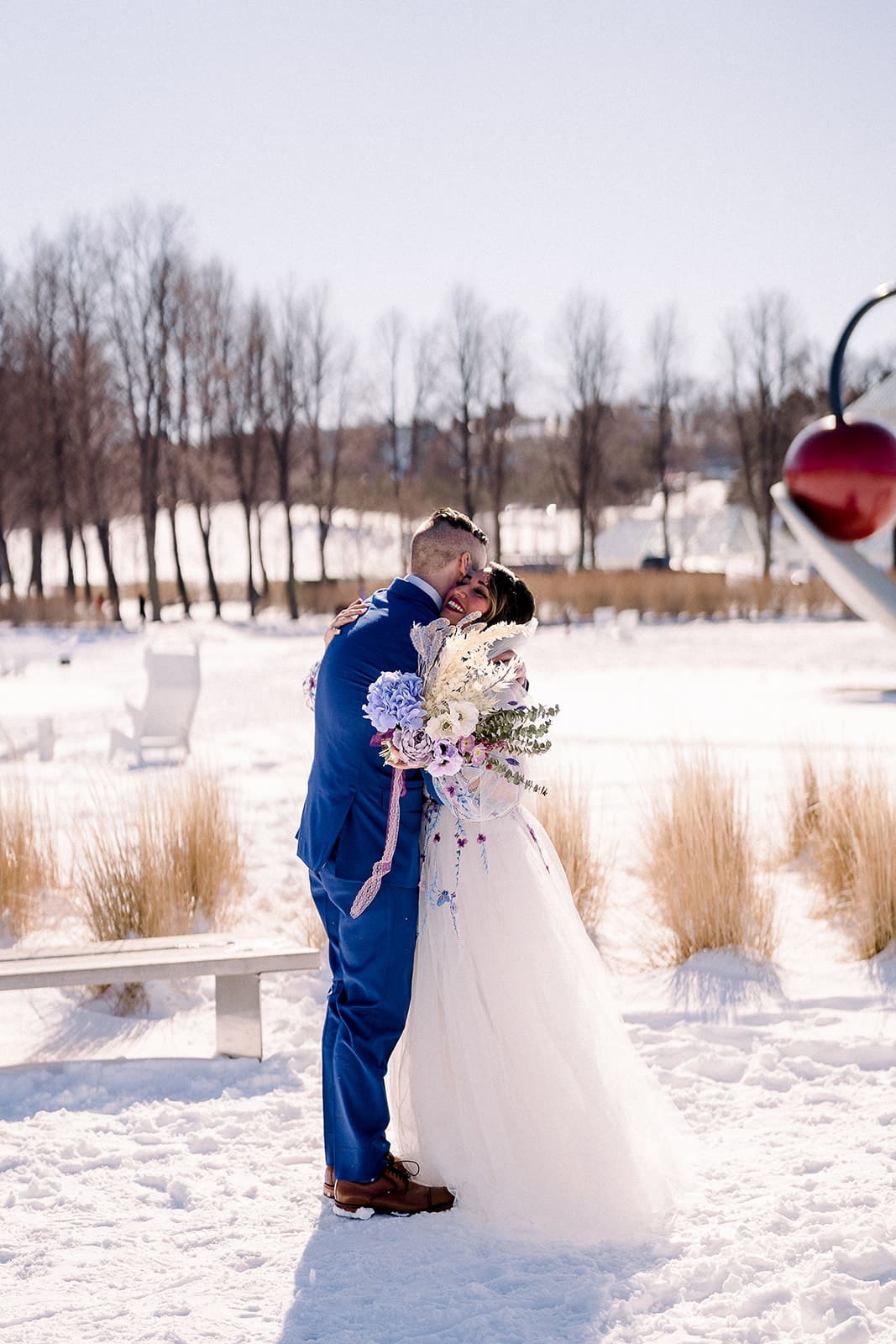 Minnesota Sculpture Garden
725 Vineland Pl, Minneapolis, MN 55403
Just on the other side of Hennepin Avenue is the Minnesota Sculpture Garden. This engagement session location is iconic to Minneapolis and a great spot if you're hoping for a mixture of fun and formal portraits. It can get busy during the summer, so plan a little extra time to work around the many walkers, bikers, and skateboarders that love this park!
Twin Cities Murals
26th & Hennepin
Minneapolis is known for its artwork, and the Twin Cities Murals and Music Wall locations are the perfect spot if you're hoping for a downtown and artsy vibe. Plan extra time to find parking in the area, and don't eat dinner before your session – you'll want to stick around the area and enjoy the many rooftop patios, restaurants, and bars that this area is known for!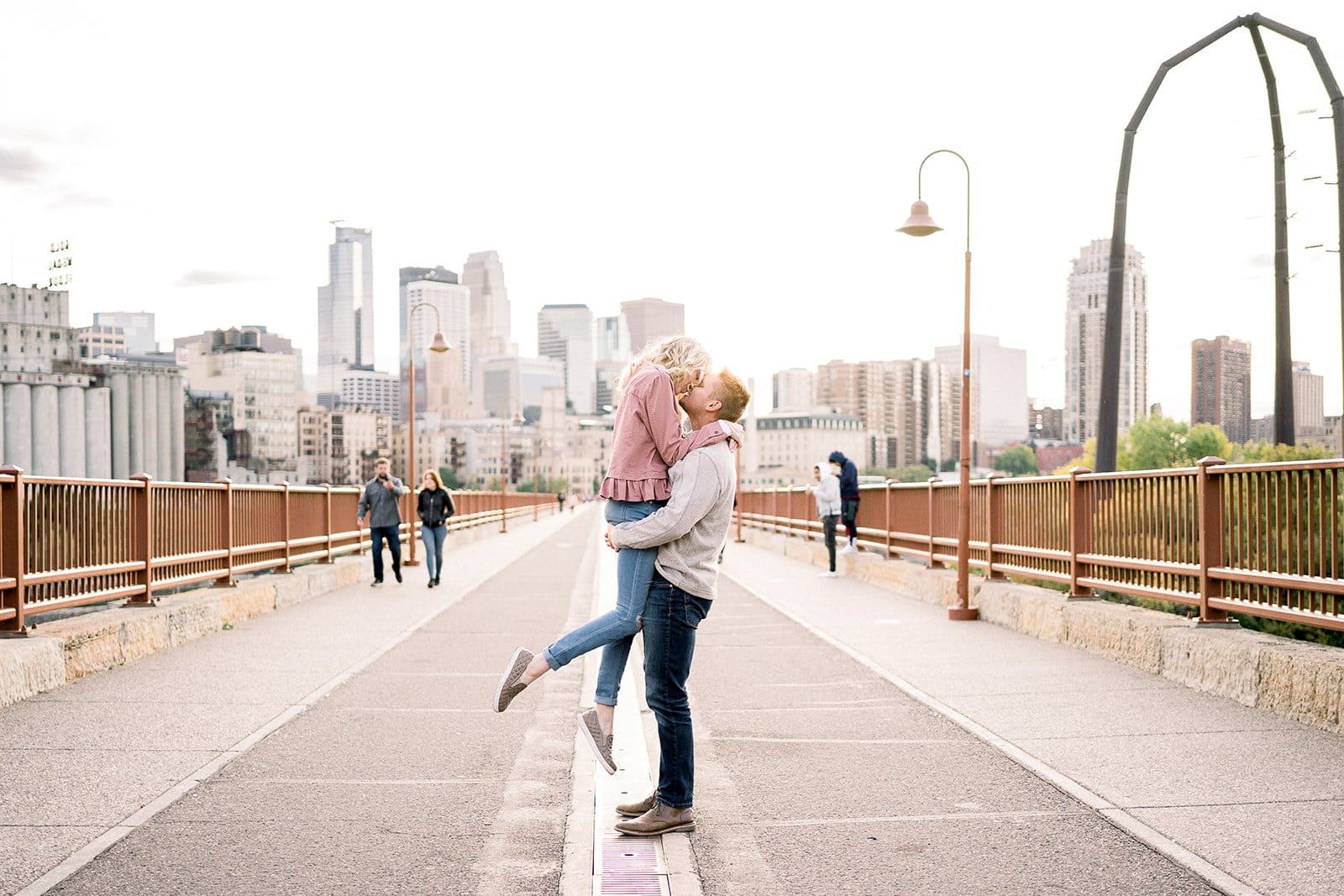 Stone Arch Bridge
100 Portland Ave, Minneapolis, MN 55401
The Stone Arch Bridge is probably my most-requested spot for Minneapolis engagement photo locations with skyline views. There are no fees to shoot here and the various views of the Minneapolis skyline are absolutely breathtaking. This is not a great spot if you plan to bring your dog – there are many people crossing the bridge, especially in the evenings and during golden hour, so children and dogs tend to get distracted.  This is also not the spot for you if you mind some background crowds in your photos. Some people love that look, and others don't!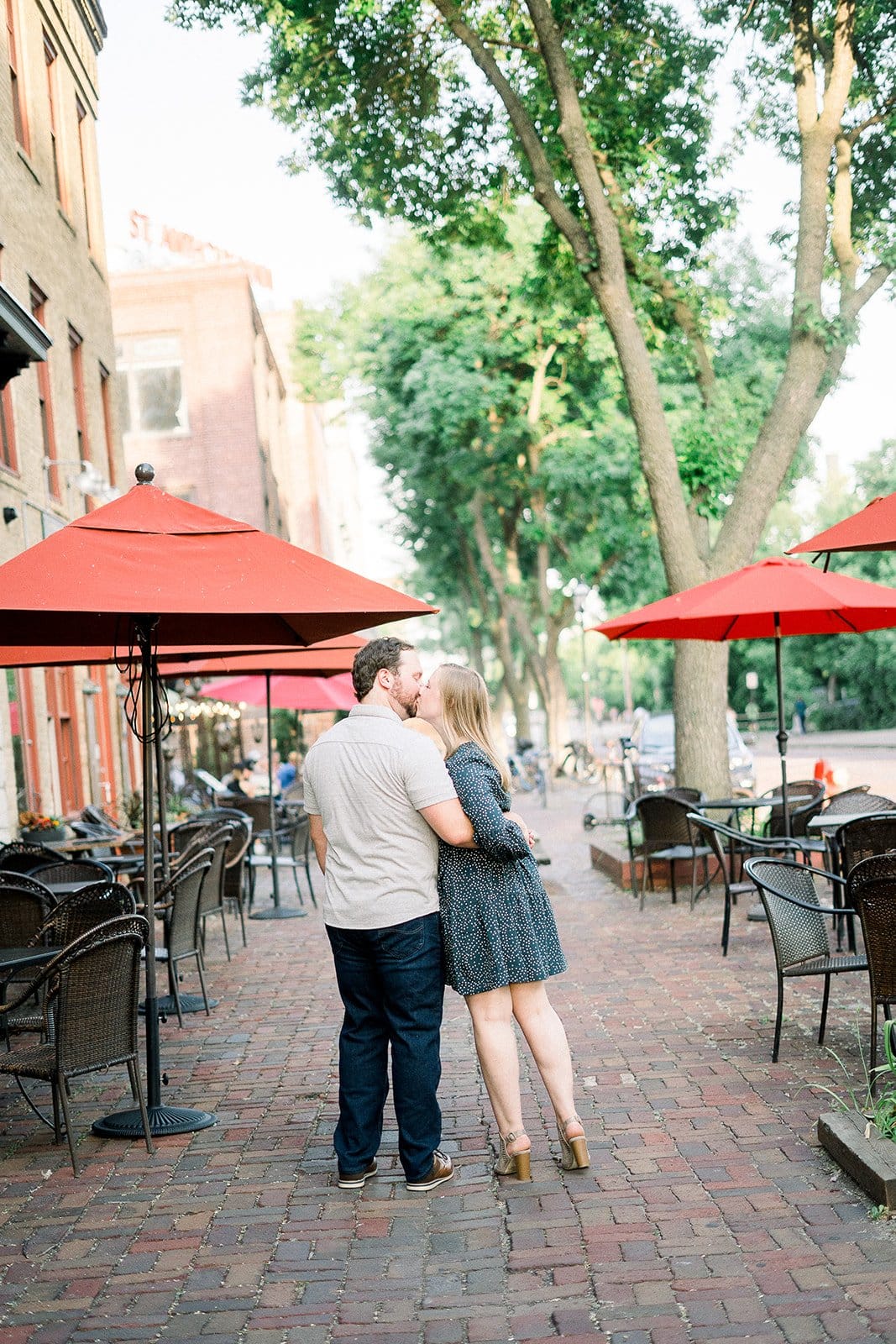 Saint Anthony Main
115 Main Street; Minneapolis, MN 55414
This spot has it all! In addition to some more natural spots, Saint Anthony Main boasts one of the best views of the skyline in the cities. It's known as "the spot" amongst photographers and you'll probably see another couple or two there (don't worry, it's an easy spot to share).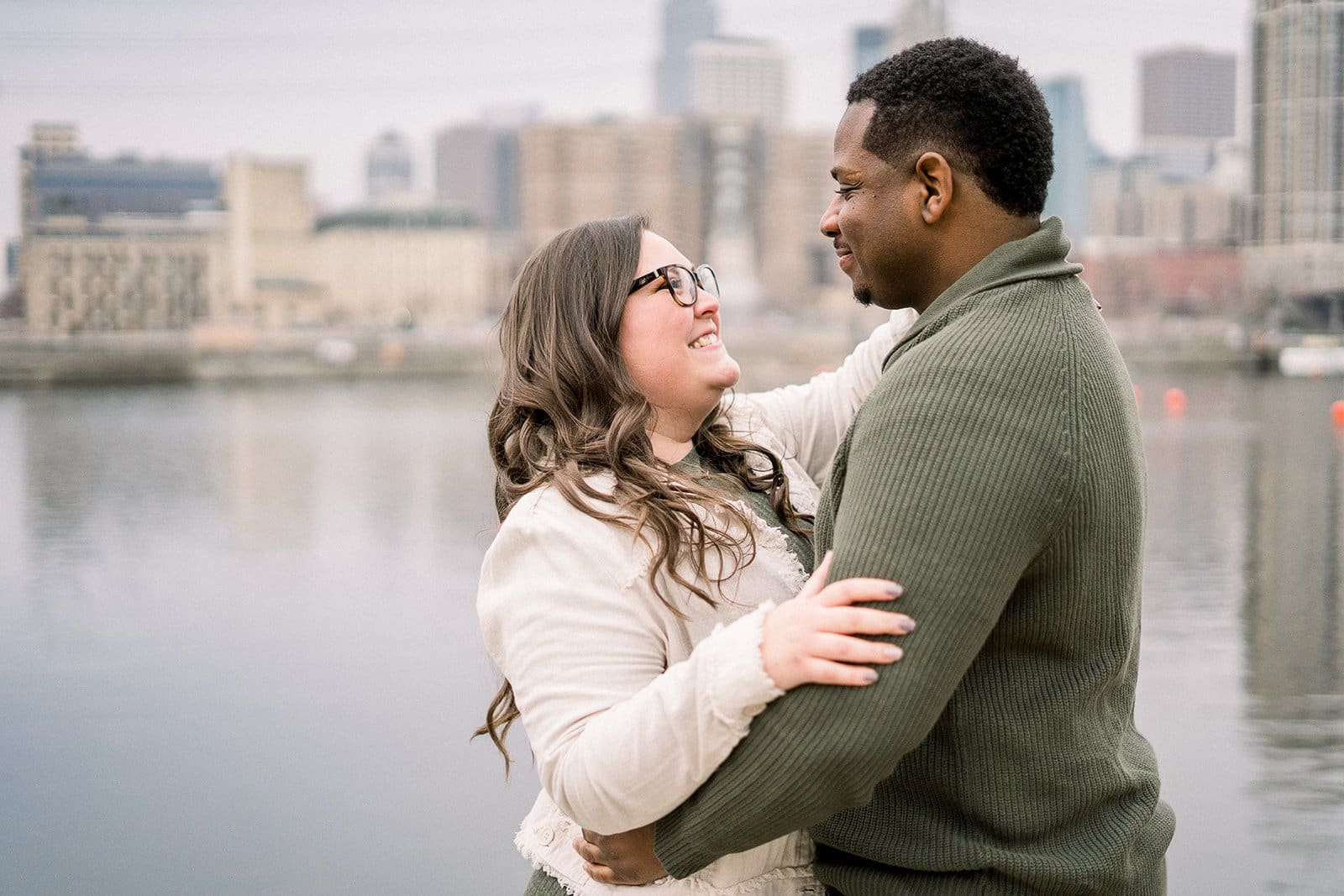 Best Indoor Minneapolis Engagement Photo Locations 
If you expect rain during your engagement session or are hoping to stay out of the cold for winter photography sessions, it can be nice to plan for at least part of your session to be indoors! Here are a few favorites in the Minneapolis area: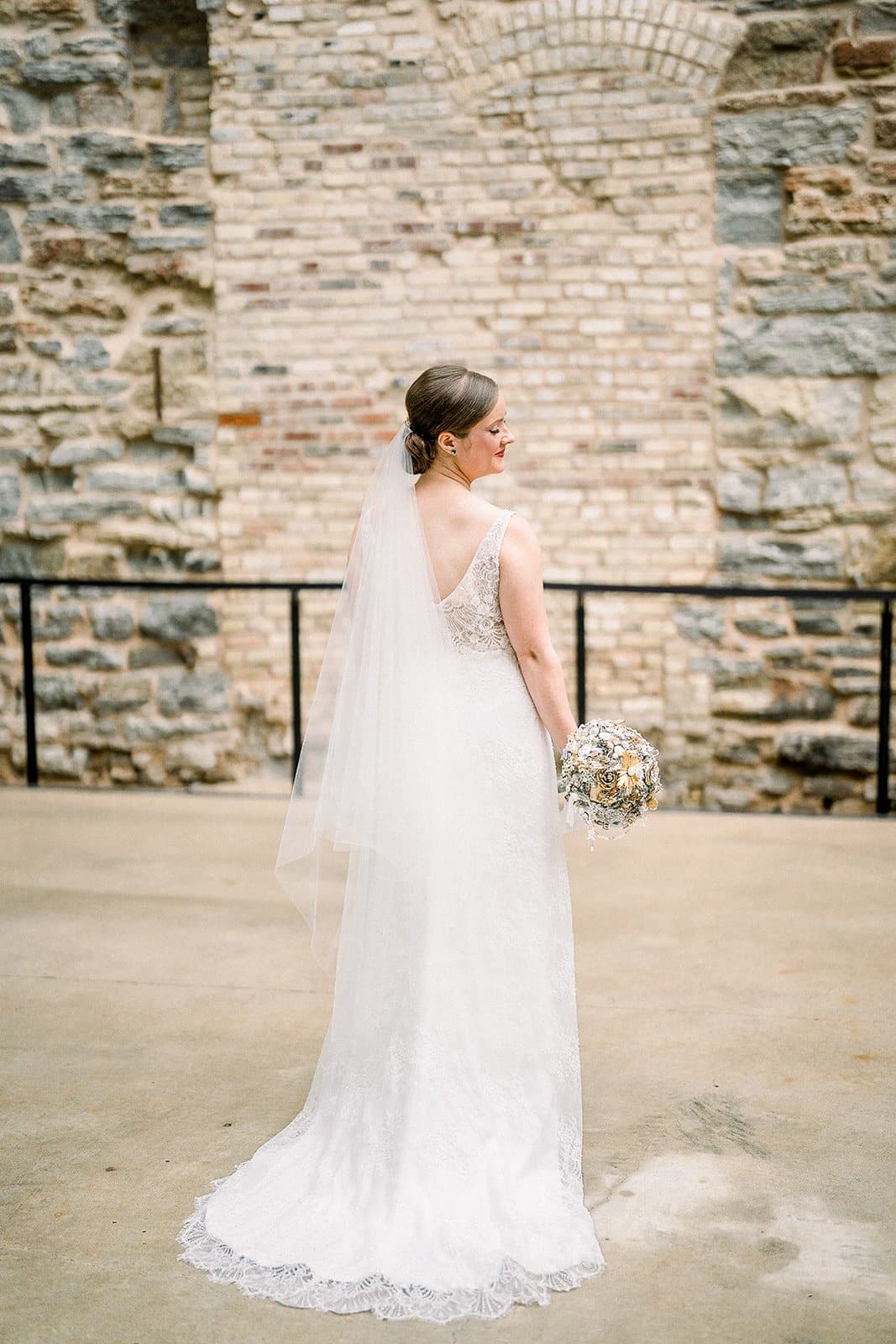 Mill City Museum
704 S 2nd St, Minneapolis, MN 55401
If you're looking for an eclectic and definitely Minneapolis vibe, consider the Mill City Museum and courtyard for your engagement session! Some fees apply depending on the time of year, day of the week, and the amount of time you plan to use the museum. As a bonus, the surrounding area outside of the museum grounds are gorgeous and offer some beautiful views of downtown and the many beautiful bridges spanning the Mississippi River.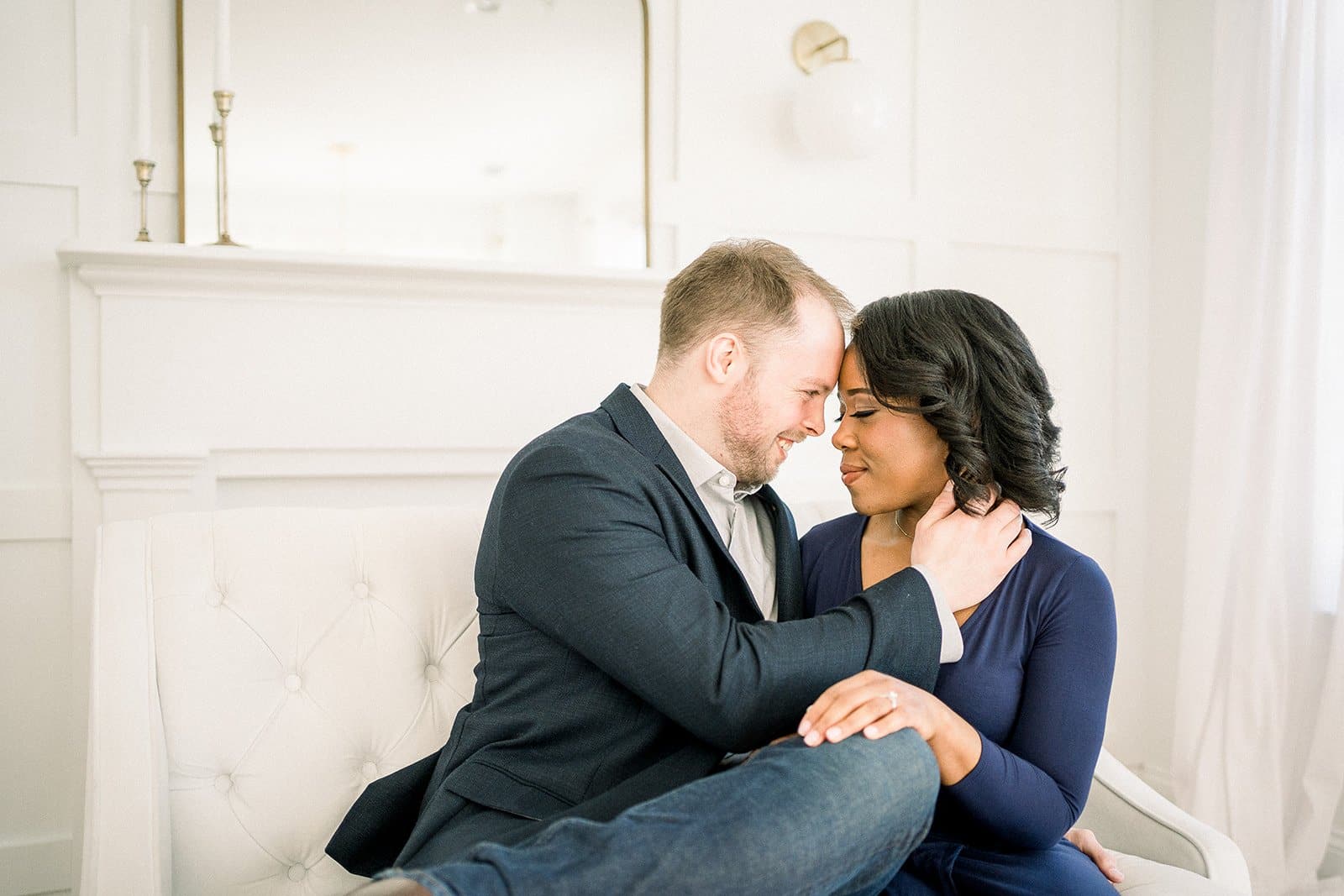 Indoor Photography Studio
(Shot at Rachel Kathleen Indoor Studio in Maple Grove)
Shooting your engagement photos at an indoor photography studio is nothing like the family photos your mom used to drag you to at JC Penny's, I promise! There are many gorgeous studio locations in the metro area – ask your photographer which are their favorites!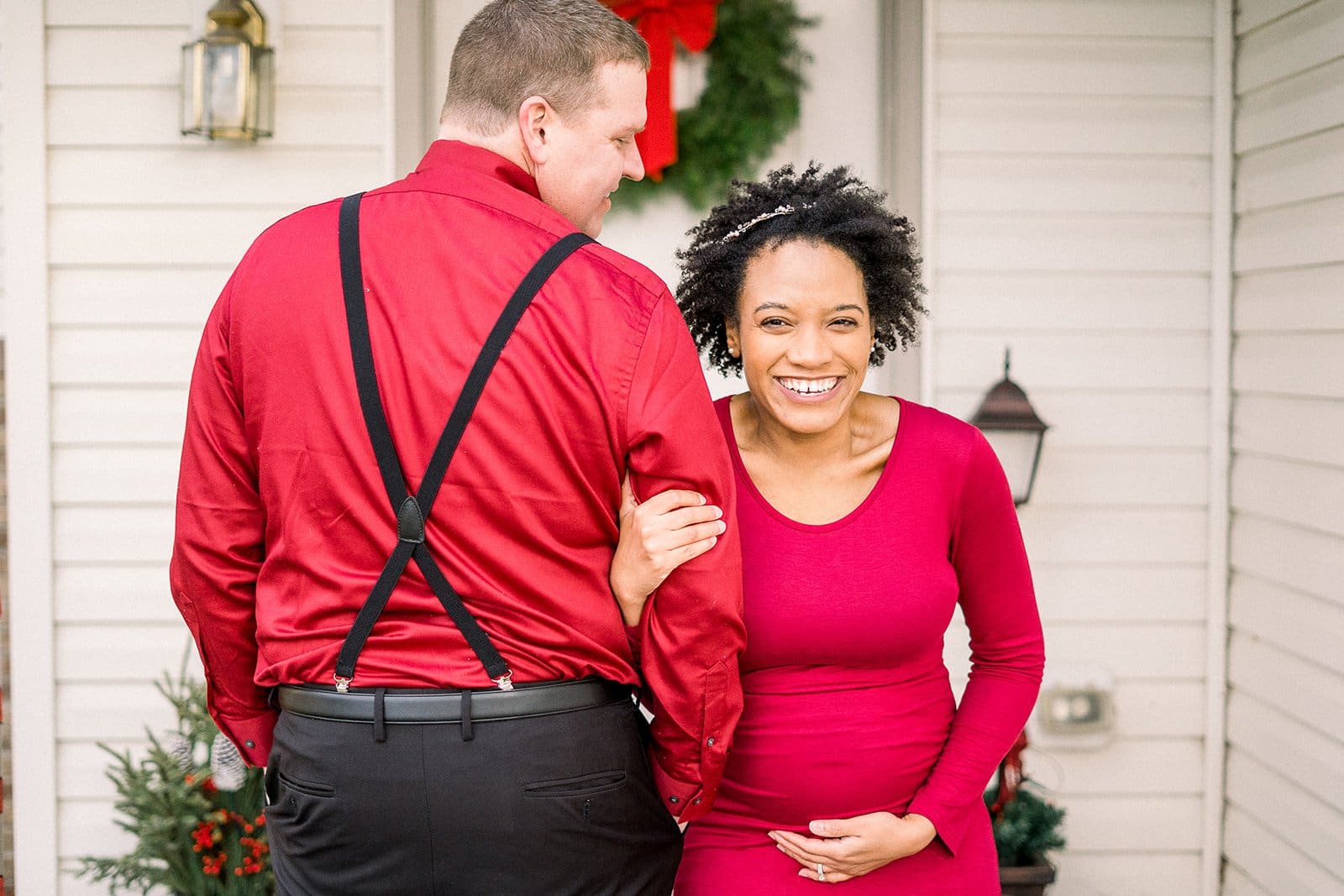 Your Favorite Minneapolis Bar, Restaurant, Brewery, Coffee Shop or Ice Cream Shop
Hoping to stay indoors but want to turn your engagement session into more of an experience? Call ahead and reserve a private room, wine tasting, beer tasting, dessert sampling, or other fun activity for you and your fiance during your engagement photo session. Your photos will turn out unique and fun!
Best Outdoor Minneapolis Engagement Photo Locations 
Minneapolis is gorgeous during all four seasons and there are so many beautiful gardens, parks, and river walks to choose from if you're hoping for an outdoor engagement session!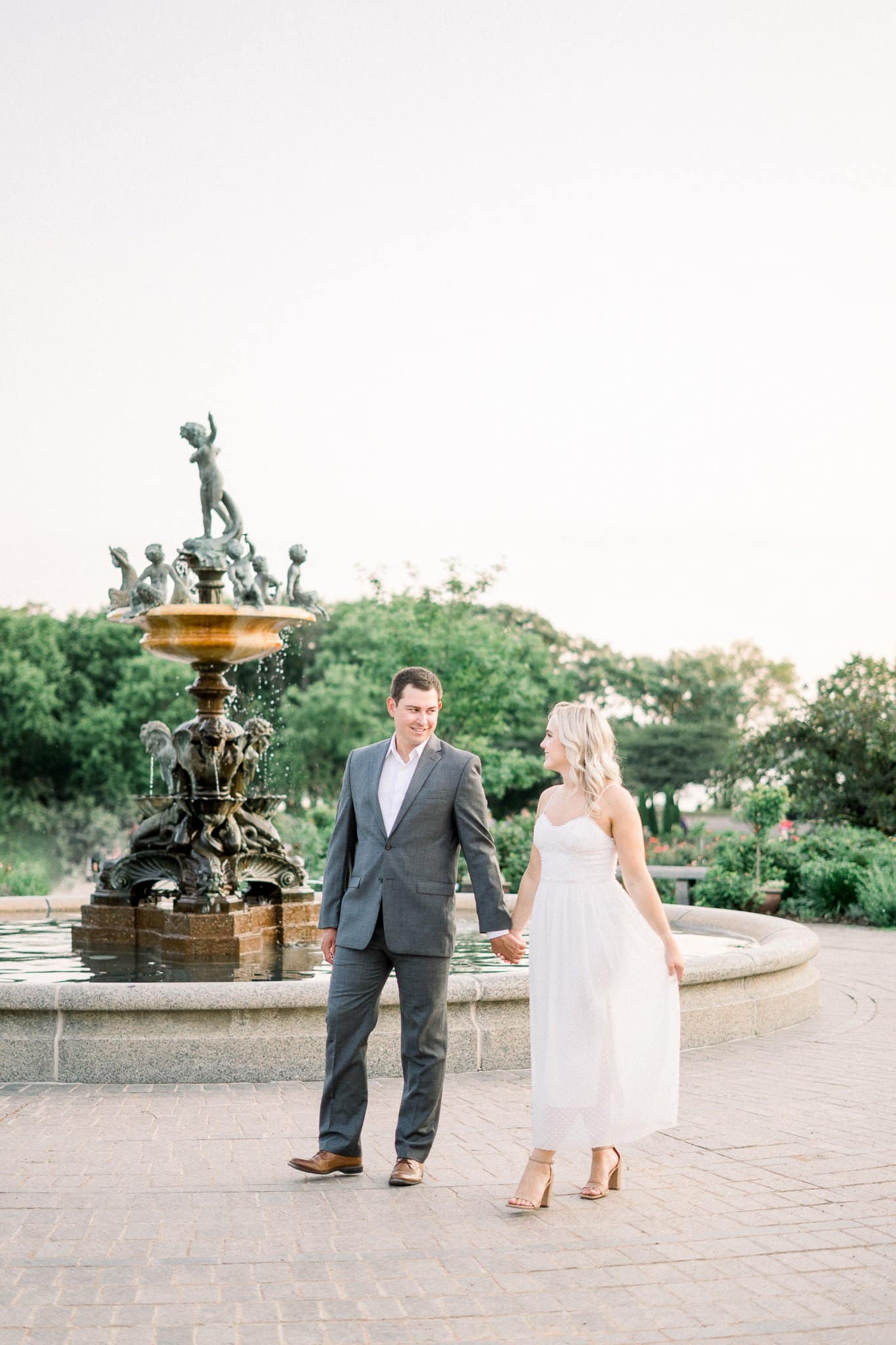 Lyndale Park Rose Garden
4124 Roseway Rd, Minneapolis, MN 55409
If you're planning on wearing a cocktail or evening gown to your engagement session, Lyndale Rose Gardens might be the perfect location for you! The gorgeous gardens, manicured lawns, and vintage fountains will make you feel like you're in France.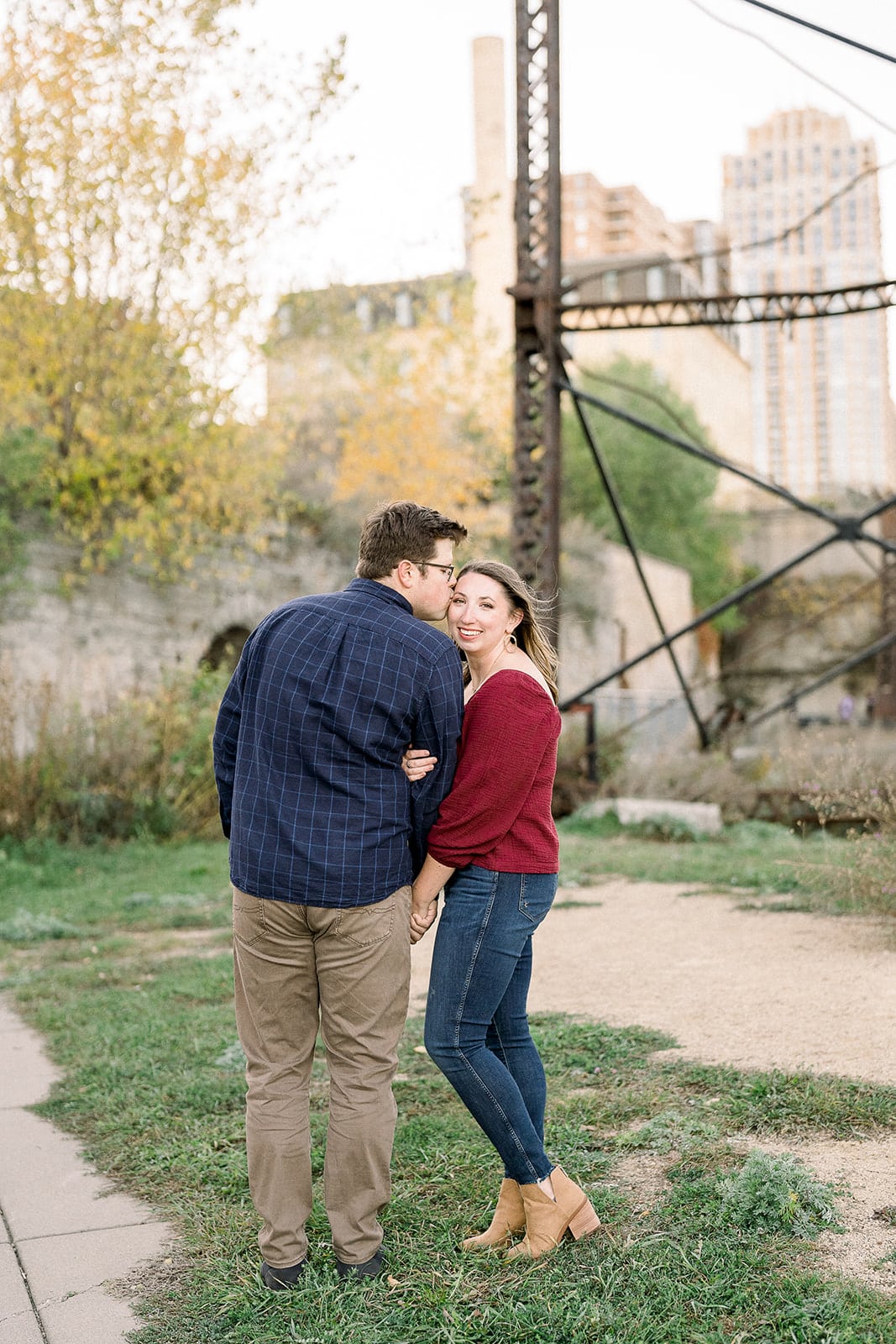 Mill City Ruins Park
102 Portland Ave S, Minneapolis, MN 55401
Located just behind the Mill City Museum and along the Mississippi River, this spot is one of my favorites for perfect golden hour light! If you're looking for a mixtures of greenery and concrete, this is the spot for you.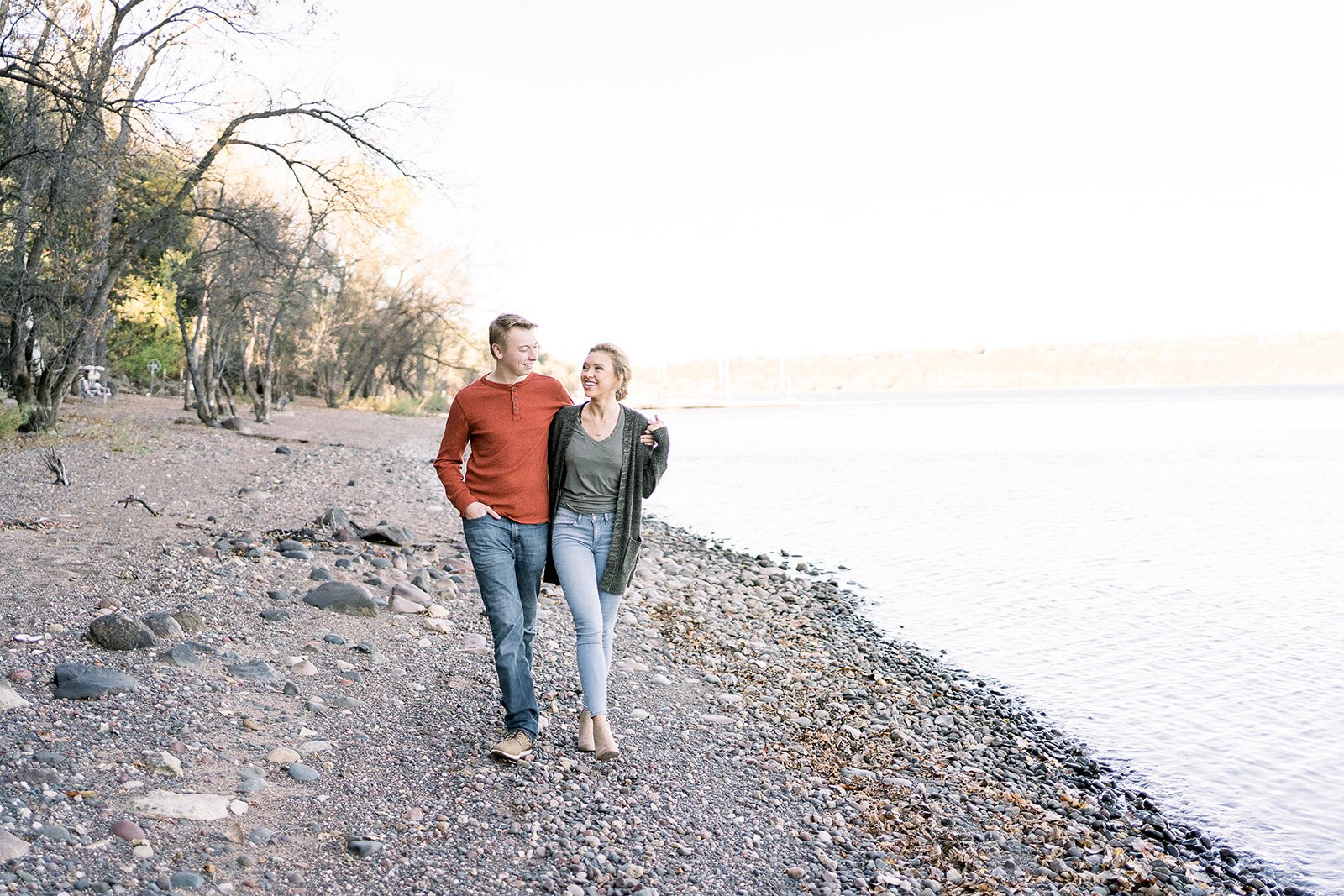 Lake Harriet or any of the Minneapolis Lakes
Minneapolis is known for its Chain of Lakes, and summer is the perfect time to plan an engagement session at one of the many lakes in or surrounding the Twin Cities area. If you plan an engagement session in the downtown areas, just be aware that you'll have to work around bikers, pedestrians, and the many hikers and roller skaters that love to utilize the city walkways in the evenings. It's not a problem, but it might be worth giving yourself an extra few minutes to let your photographer work around the various people that might walk into the frame.
Arneson Acres
4711 W 70th St, Edina, MN 55424
Technically located in Edina about 20 minutes from the Minneapolis city limits, Arneson Acres is a beautiful city park with fountains, rose gardens, and flowering trees, especially during the spring months! If you're looking for a romantic engagement session, check out Arneson Acres.
Best Fine Art Minneapolis Engagement Photo Locations 
Fine Art sessions are always my favorite to shoot! If you're looking for a film or high-end look to your photos, choose one of these Minneapolis engagement session locations. You won't be sorry, and your photos will have an editorial, fine-art look that is truly timeless!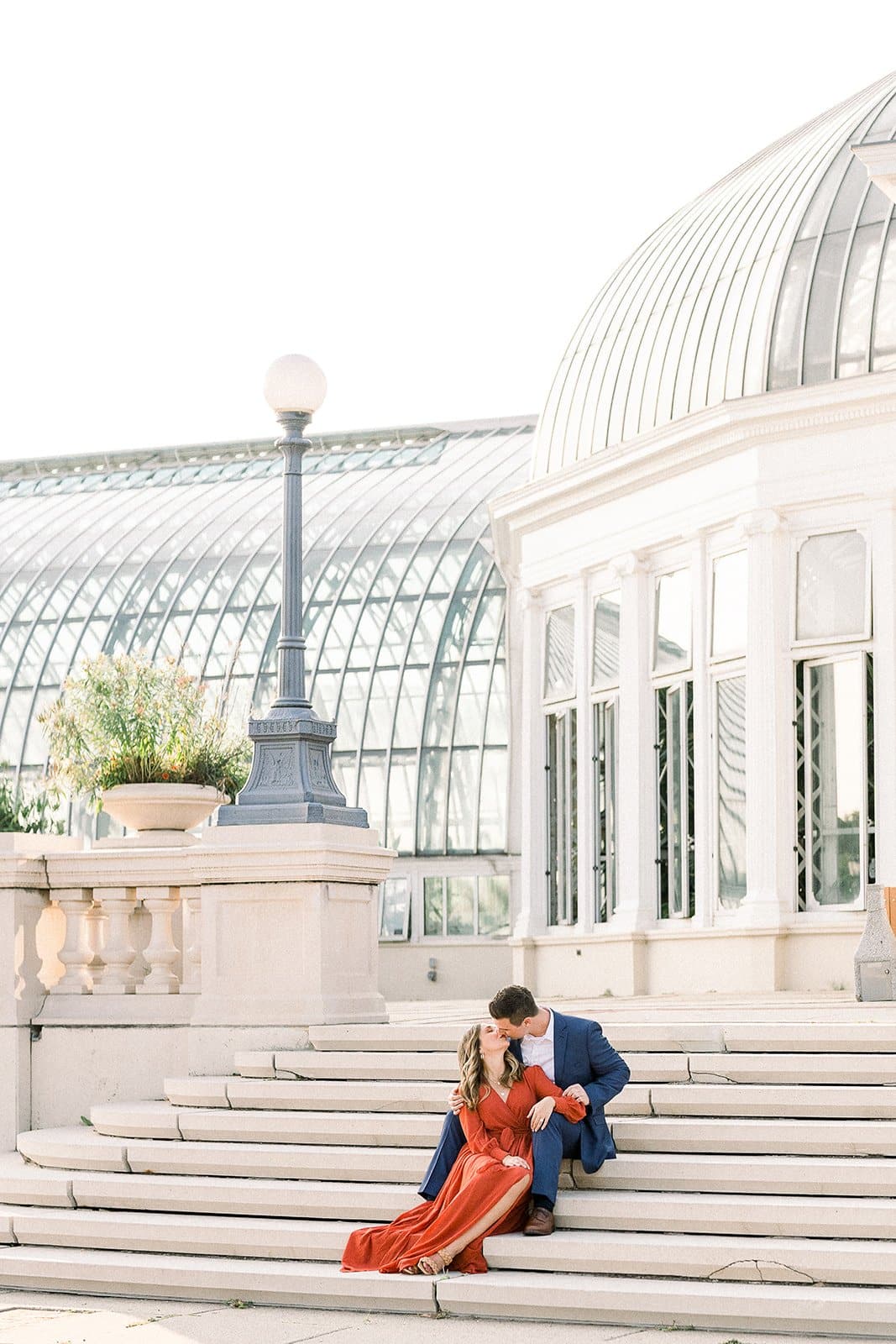 Como Park and Conservatory
1225 Estabrook Dr, St Paul, MN 55103
The Como Park Zoo and Conservatory has been a favorite venue for engagement and wedding photography for years – and it's not hard to see why! With it's many options for fine art and natural photography backgrounds, and the impeccably manicured grounds within and surrounding the Conservatory, it's a favorite among couples. It's also not usually too busy and is large enough to accommodate the many photographers that use this spot.
J.J. Hill Library
80 W 4th St, St Paul, MN 55102
Located in downtown St. Paul across from Rice Park and the Landmark Center, the J.J. Hill library is the perfect place to have your engagement photos taken if you're looking for elegant white marble columns and a high-end feel to your session. If you're planning to wear a long dress or evening gown, this is the spot for you.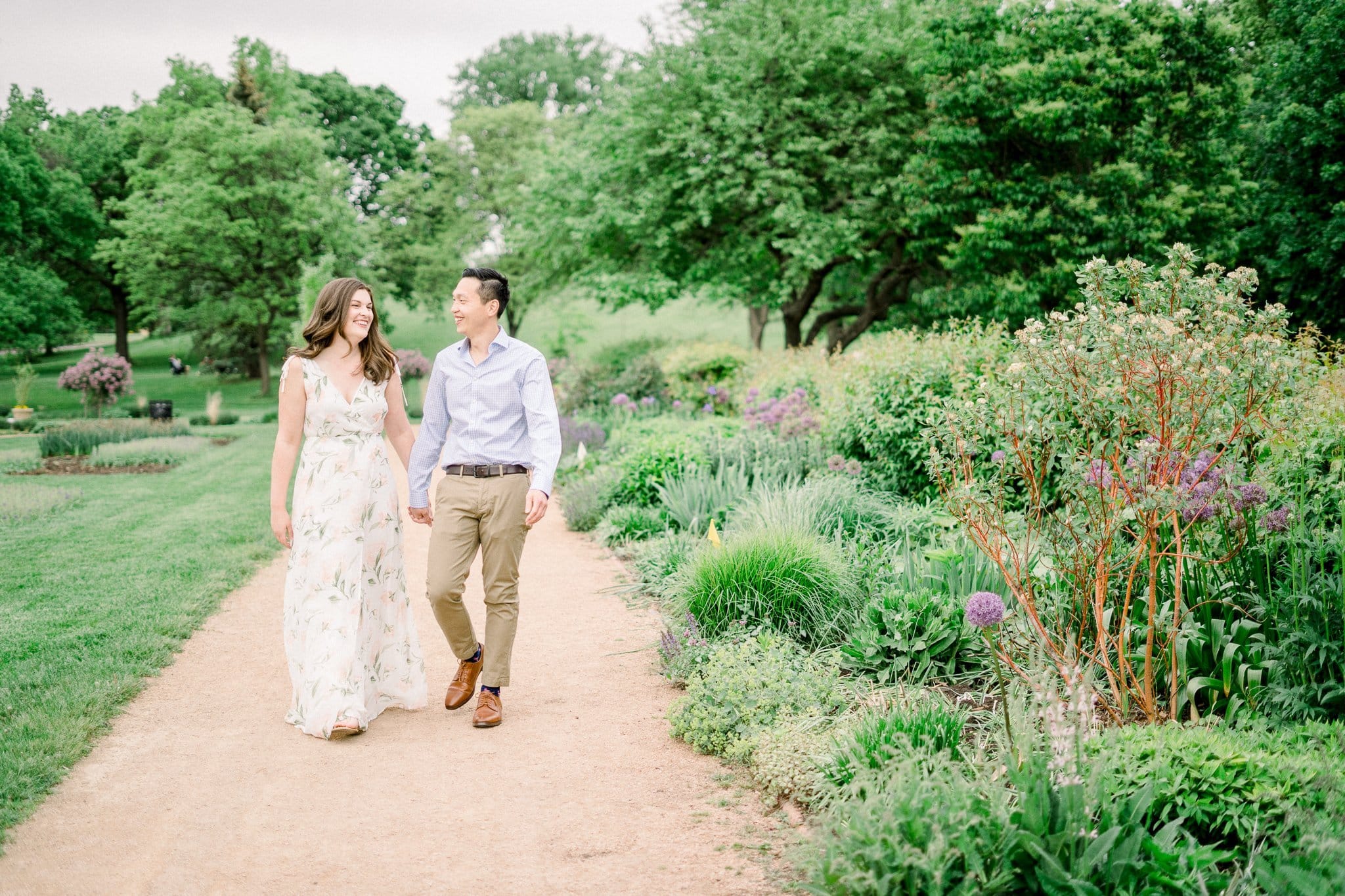 Lyndale Rose Gardens
Arneson Acres
Downtown Excelsior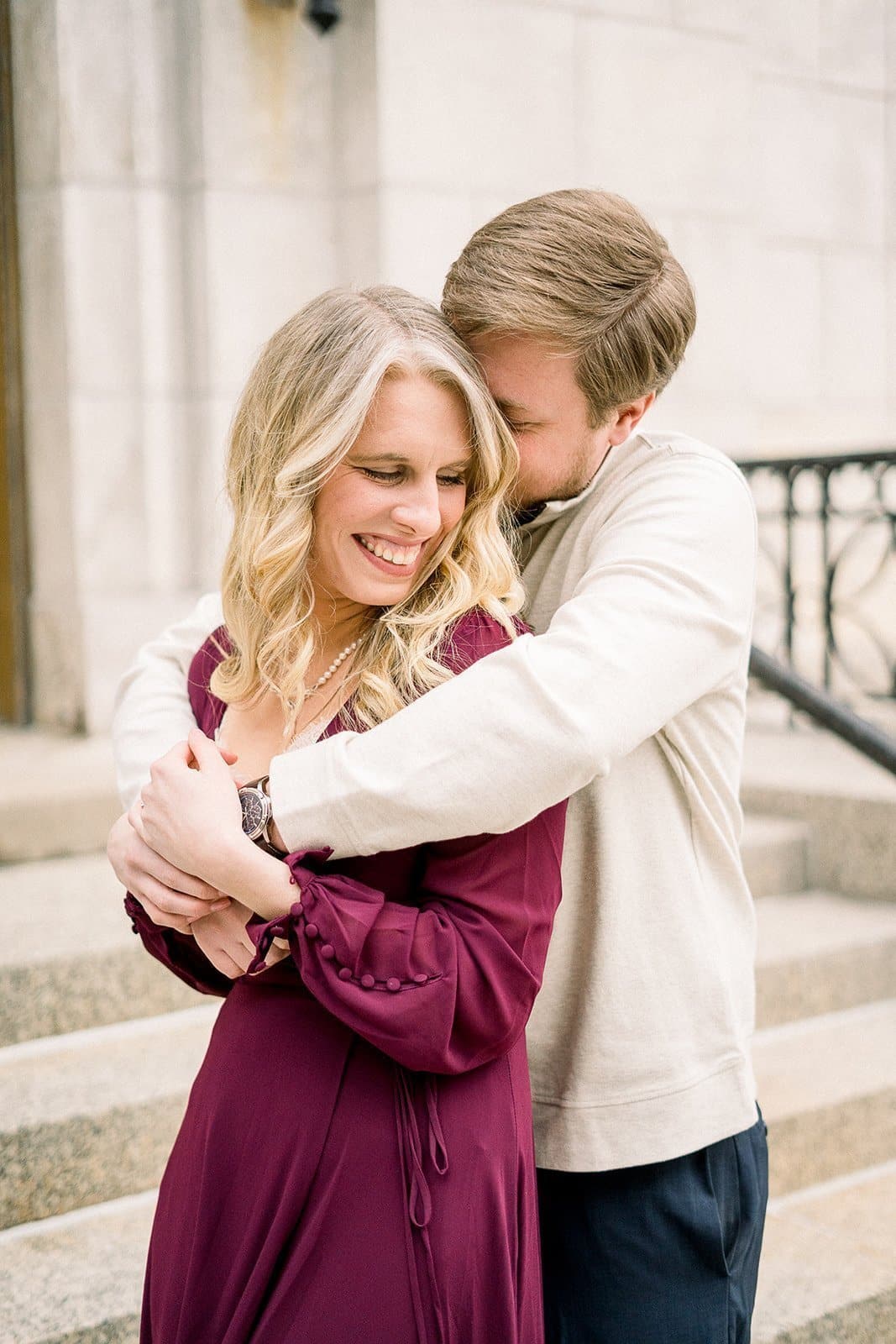 The Basilica of Saint Mary
88 17th St N, Minneapolis, MN 55403
This Cathedral is a gorgeous backdrop for fine-art, outdoor photos with a hint of Gothic French Architecture in the background. My favorite elements are the beautiful gold doors that catch the glint of the setting sun and the elegant columns and staircases that make for beautiful backdrops! Just be sure to plan your session when there isn't a wedding or mass happening to avoid the crowd.
Best Minneapolis Engagement Photo Locations with Skyline Views
Hoping to show off the Minneapolis skyline in your photos? These are the Top Skyline view locations for engagement sessions in the Twin Cities!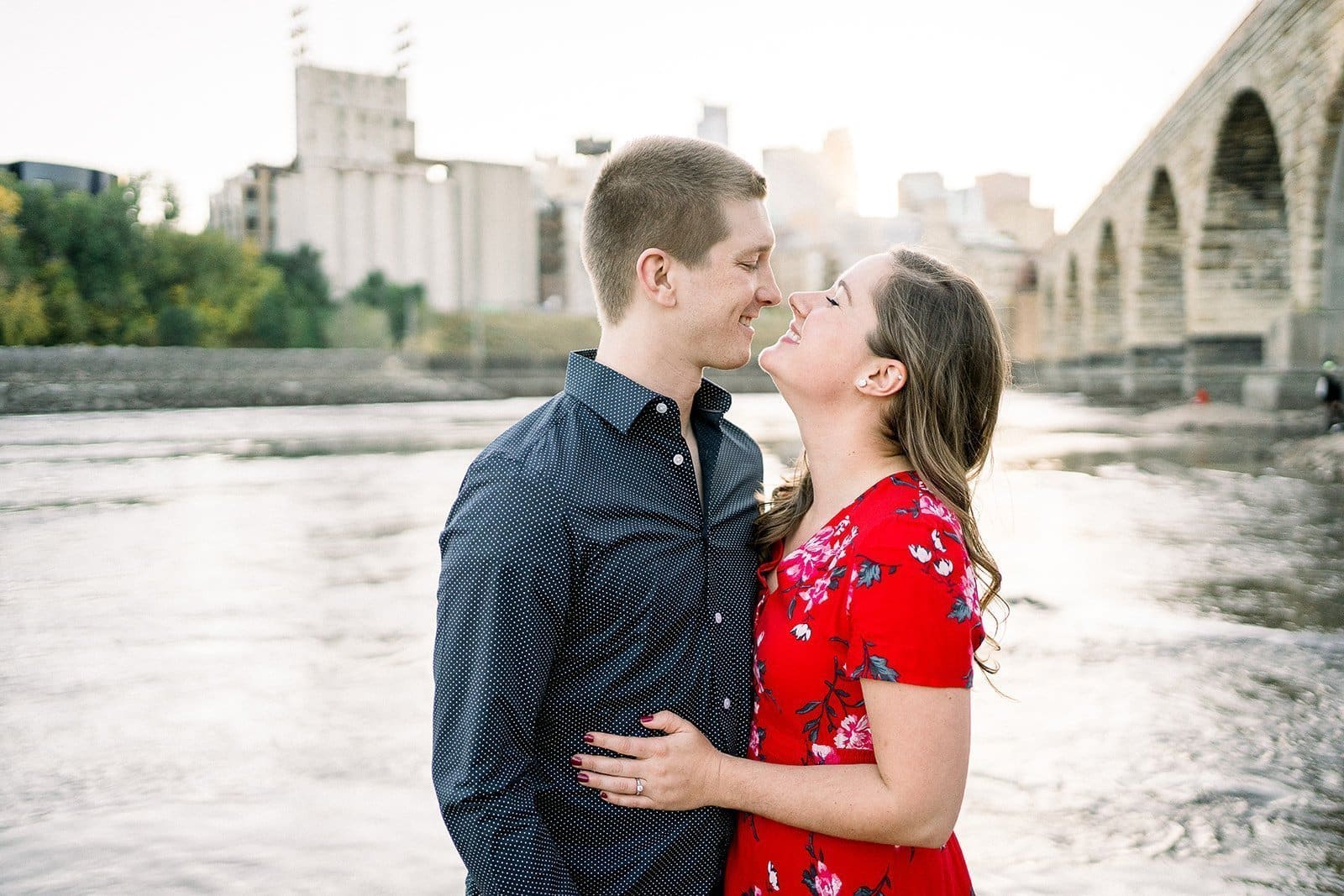 Saint Anthony Main
115 Main Street; Minneapolis, MN 55414
This one never disappoints! Saint Anthony Main is known for a small outcropping with perfect views of the city in the background (known as "the spot" amongst photographers). Don't worry – it's an easy spot to share with the other couples who will be lining up for this shot as well!
Mill City Museum
704 S 2nd St, Minneapolis, MN 55401
Across the street from the museum is the Mississippi River and a beautiful walkway that overlooks the west side of Minneapolis. Other bonus shots include views of the Gold Medal building and surrounding park.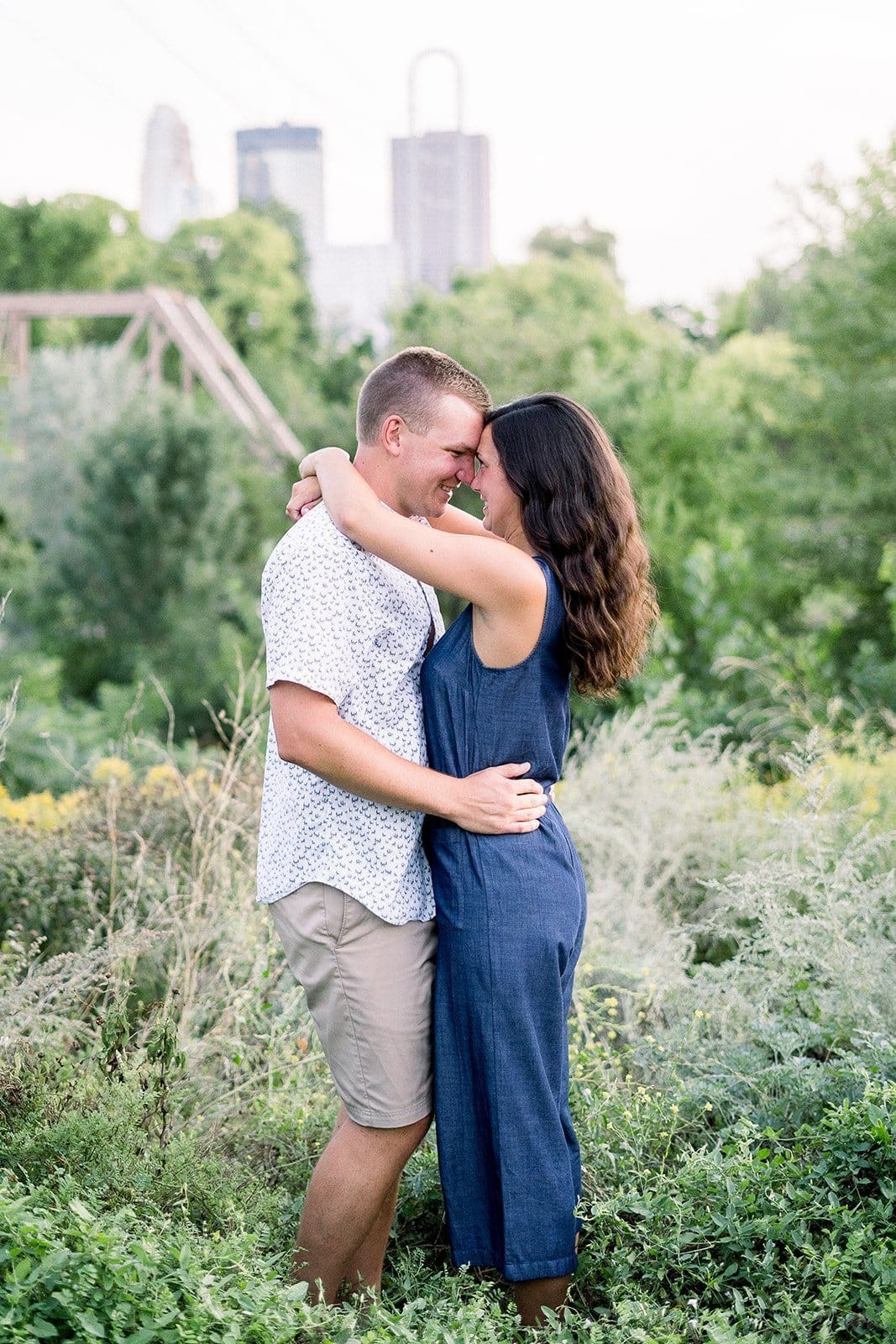 Boom Island Park
While this park has beautiful natural spots, it also includes a stunning view of the skyline from the soccer field and playground area!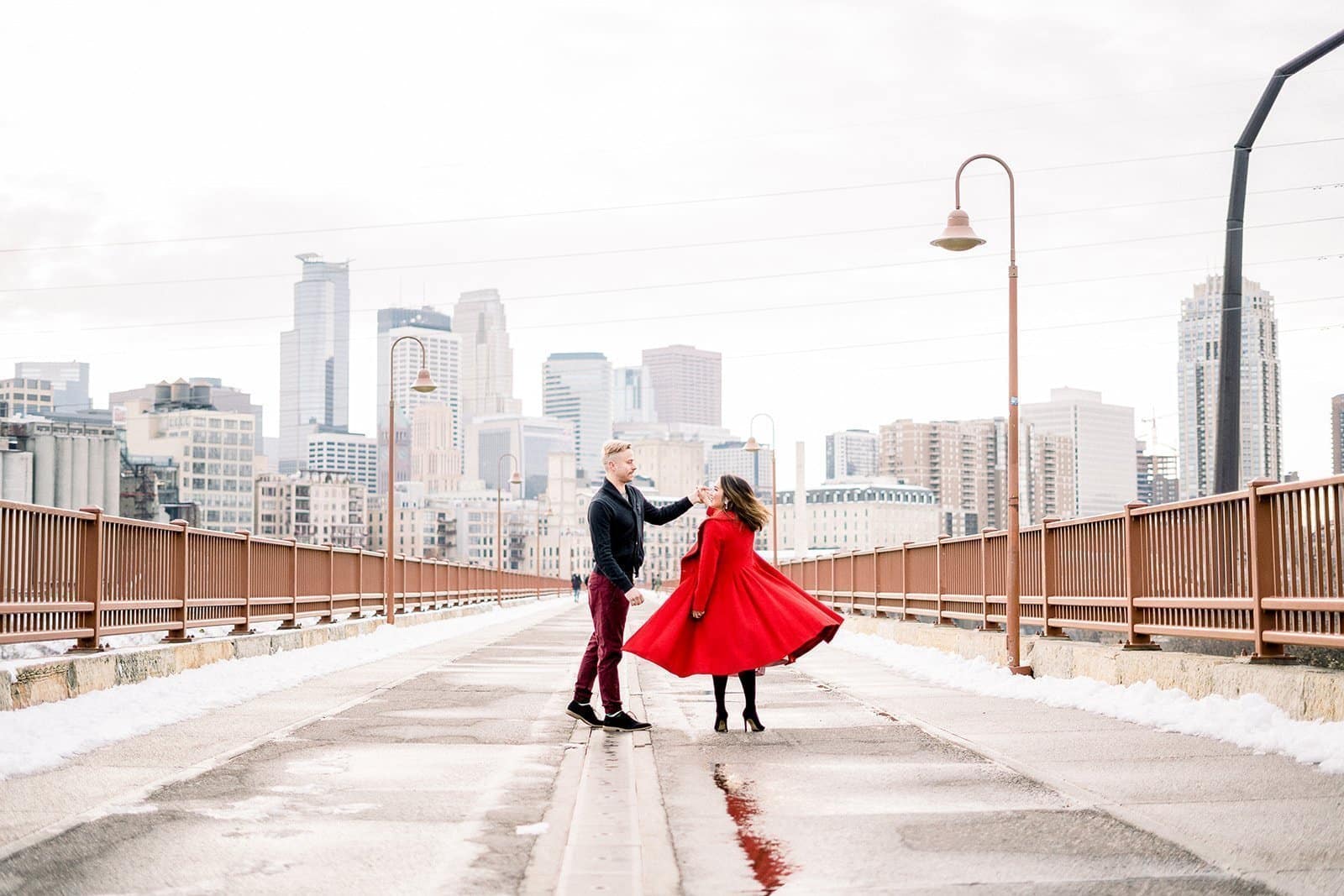 Stone Arch Bridge
Views of the skyline are visible on either side of the Stone Arch Bridge. Plan to go to this spot near sunset so that the light isn't too harsh.
Resources for Planning Your Minneapolis Engagement Session and Wedding
Hoping for more tips and tricks when planning your engagement session in Minneapolis? Here are a few to get you started:
9 Tips For Looking Natural In Your Photos
6 Tips for Adding Adventure to Your Engagement Session
How to Plan and Budget for Your Wedding, According to A Wedding Planner
Book Your Engagement Session Now!
Are you engaged and considering a session at one of these 25+ Best Minneapolis engagement photo locations? I would be honored to serve you and tell a small part of your love story during this special time in your journey together! Please reach out today to find out my availability!   
25+ Best Engagement Session Locations Minneapolis